Nov. 18: Rural unrest in Big Pig country; Bonn voyage to climate ambition
Saturday November 18th 2017, 5:41 AM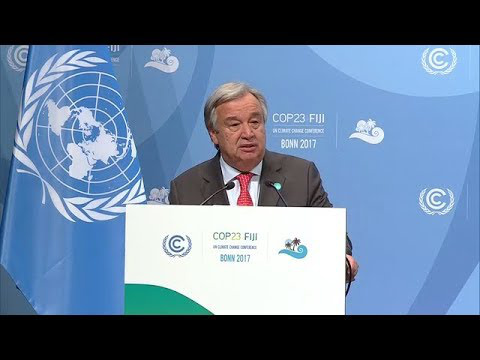 We ran our biggest series of the year this week,

Peak Pig—a look at the serious changes in hog production

over the past few decades and the effect consolidation and massive growth has had on rural communities across the U.S. When I was reporting on the series, professor and researcher Frank Mitloehner of University of California, Davis told me:

"The farm of the past—you know, the red barn-type scenario, pigs out in the wild—those days are long gone."

He's right. Many of us have lost touch with our food and the people who grow and raise it. I was taken aback when I traveled to Iowa and North Carolina to see what "farms" look like nowadays.
We tried to take a fair, clear-eyed look at our modern food system, the social implications of its changes, and some solutions to the fights taking place in community centers and court rooms. I hope you enjoy it.
See the investigation here:

Peak Pig: The fight for the soul of rural America



"Promoting coal at a climate summit is like promoting tobacco at a cancer summit"



-Michael Bloomberg, the former New York mayor and a UN special envoy for cities and climate change, referring to the US administration's portrayal of fossil fuels as vital to reducing poverty and saving jobs during a Bonn session
'Tobacco at a cancer summit': Trump coal push savaged at climate conference


https://t.co/Lqn0qgj9MZ



— Guardian Science (@guardianscience)

November 13, 2017

The 23rd annual "

Conference of Parties

" (or COP23, in UN-speak) closed Friday with two key messages:
The 195 countries signing the Paris Agreement remain committed (yes, that includes the United States, albeit quietly) to a collective framework on international climate action, and
The international community still has yet to send a strong signal transitioning from fossil fuels.
True, 19 countries, headed by the UK and Canada, committed to phase out coal production (The Guardian called the move

"a political watershed"

).
But little progress was made defining specific guidelines. Activists call for a "robust set of rules," then vented during U.S. talk about the necessity of fossil fuels. Our quick read: "

Song, dance and protests at US energy talk.

" Ecowatch has a

first-person account

.

Look on the bright side:

Governments agreed to integrate gender equality into climate action, and they committed to giving indigenous peoples equal footing in UN climate responses.
The Center for International Environmental Law called those developments "two rays of light:"

"The decisions related to gender and indigenous peoples are welcome developments,"

said Sébastien Duyck, a senior attorney for CIEL. The climate talks, he said, are

"where theory becomes practice, with real consequences for communities around the globe.

Plenty of end-of-session wrap-ups on the web, from the

Associated Press

,

France24

,

Climate Home News

,

The New York Times

and

The Guardian (in pictures)

.
Environmental health reporter, and friend of EHN, Elizabeth "Lizzie" Grossman—who passed away in July—has a co-byline in a story published this week in the Center for Investigative Reporting's Reveal.

The investigation—done with reporter Liza Gross and Lindsey Konkel—found 11 new members of the EPA's Science Advisory Board have, in the past, downplayed the health risks of secondhand smoke, air pollution and other hazards.

"I fear the protection of our environment is in grave danger,"

said former board member and Princeton University air pollution expert Denise Mauzerall, who was removed by EPA Administrator Scott Pruitt.
It's an eye-opening piece, emblematic of the industry-friendly tone we've seen from this administration.
And it's the kind of dogged, important, public health reporting that Lizzie Grossman was known for among peers and readers.
Full story:


EPA swaps top science advisers with industry allies




"The Lizzie Grant for Environmental Health Reporting" via the Society of Environmental Journalists




Is that a wasp? Villagers see animals for the first time.



Up in Utqiagvik, Alaska, every year brings more animals without names. (E&E News)


Ousted Standing Rock leader on the pipeline protest that almost succeeded

.


"We could never anticipate what was going to happen, but it was about time that the federal government finally listened to indigenous people." (Inside Climate News)


Vampire battles climate change in new comic series.



"Dark Fang" is the story of Valla, a vampire who realizes that climate change is going to wipe out her food supply … humans. (Yale Climate Connections)


The billionaire mogul fighting to feed Venezuela's hungry masses.



He's one of Latin America's most private billionaires. But as Venezuela lurches through the worst economic, social and political crisis in its history, he's also become something of a Han Solo figure, billionaire mogul fighting to feed Venezuela's hungry masses. (Ozy)


Florida opened a fake alligator farm to catch poachers.



A multiyear undercover investigation snagged nine men who now stand accused of felonies ranging from poaching to racketeering. (National Geographic)


Hate smoky summers, Portland and Seattle? How the crisis in the woods is really a social problem.



"I have had friends lose everything. I have lived and worked here for 40 years and have fallen in love with this land, and these forests." (Investigate West)
Monsanto was in the news this week, joining with some US farm groups to sue California over the state's decision to put cancer warnings on products containing the weedkiller glyphosate.
Meanwhile the EU still hasn't decided whether or not to renew the license for glyphosate, which is due to expire on Dec. 15.

Head's up:

Next week we will run translations of an investigation from the French newspaper, Le Monde. Called "Monsanto Papers," the reports examine the fallout and disinformation campaign waged after the World Health Organization's International Agency for Research on Cancer deemed glyphosate a "probable human carcinogen" in 2015.
The Le Monde series, published in June in French, recently won the

Prix Varenne

Presse quotidienne nationale (Varenne award for the national daily press). It's important work that deserves an English translation.
Welcome to the weekend! We spent the week showcasing rural unrest and the impact of Big Pig in the United States. World leaders in Bonn fell short in producing a robust Paris rulebook.
---
Here's what you might have missed and what you need to know for the weekend.
[
News Source
]