Peak Pig: The fight for the soul of rural America
Monday November 13th 2017, 12:28 PM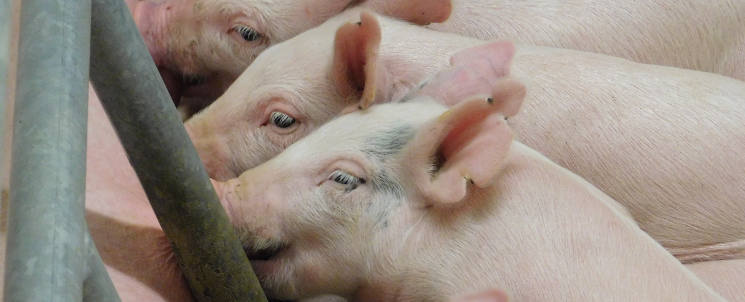 People across Iowa—union organizers, retirees, farmers, truck stop cashiers, former teachers and a bunch of people that live at the end of the road for a reason—say massive hog farms have eroded the communal aspect of rural life and have pushed small-scale farmers out of business.

Pork, political sway and provoked communities

Many rural folks living near large scale hog operations feel they've been left behind. And in living rooms, community centers and diners throughout Iowa, opposition is growing and organizers are looking to bring local voices back to state politics.
"My number one concern is water"

As large hog barns spring up around his house, Jerry George sums up the major reason he and his wife, Sue, are in opposition: "It's water. My number one concern is water."
Neutering nuisance laws in North Carolina

Nationwide, the consolidation of the livestock industry and corporate political power has created a formidable proponent of anti-nuisance laws. As a result, neighbors of these industrialized farms who have taken on the hog industry are seeing their nuisance claims gutted, with few avenues of recourse.

Swine workers on front lines in fight against antibiotic resistance

A growing body of studies has shown that livestock and their human handlers can swap potentially harmful bacterial strains. Scientists now are scrambling to track where and how this transmission occurs in an effort to quell the human health threat.
Using biogas to clear the air near hog farms

Anaerobic digestion reduces pathogens, odor, and volume—and it offers a critical upside for managers of all types of organic byproducts – from animal manure to food waste to sewage. Harnessing methane gas – which would otherwise leak into the atmosphere – curbs a global warming pollutant many times more potent than carbon dioxide. But challenges remain.
Hog waste-to-gas: Renewable energy or more hot air?

Duke University is trying to figure out how to use biogas from North Carolina's thousands of hog farms to power campus. Their success or failure could reverberate throughout the nation's biogas market and across other state campuses with commitments to reduce their climate footprint.
Bringing the farm back to hog farming

Meat eaters are increasingly looking for local, humane, environmentally friendly pork, which is spurring an increase in pasture-raised, organic farming. Advocates of outdoor hog raising say the industry model is simply hiding costs in excess pollution, government subsidies and lax regulation.
Treatment, taste and trends

Giving hogs a diverse diet and some space seems better for their health—and ours. And small-scale hog farmers are helping preserve swine diversity that could prove crucial to food security.
We sent reporters to the heart of hog production—North Carolina and Iowa, the two highest producing states—to see firsthand how the booming industry is re-shaping the rural U.S.
---
In North Carolina, hog workers are Guinea pigs of antibiotic resistance and the state's industry titans consistently battle with neighbors in court. In Iowa, a bipartisan undercurrent of rebellion is pushing for local control and a re-imagining of 21

st

Century farm life. Meet the characters raising hogs on pasture, without metal cages or drugs. Learn how renewable energy ideas may put a dent in manure piles and methane loads.
Hog farming consolidation has forever reshaped farm communities. Peak Pig takes readers to the frontlines of controversy in the countryside and investigates what it means to be rural in an age of mega-farms.
[
News Source
]