Song, dance and protest at US energy talk at COP23
Monday November 13th 2017, 6:34 PM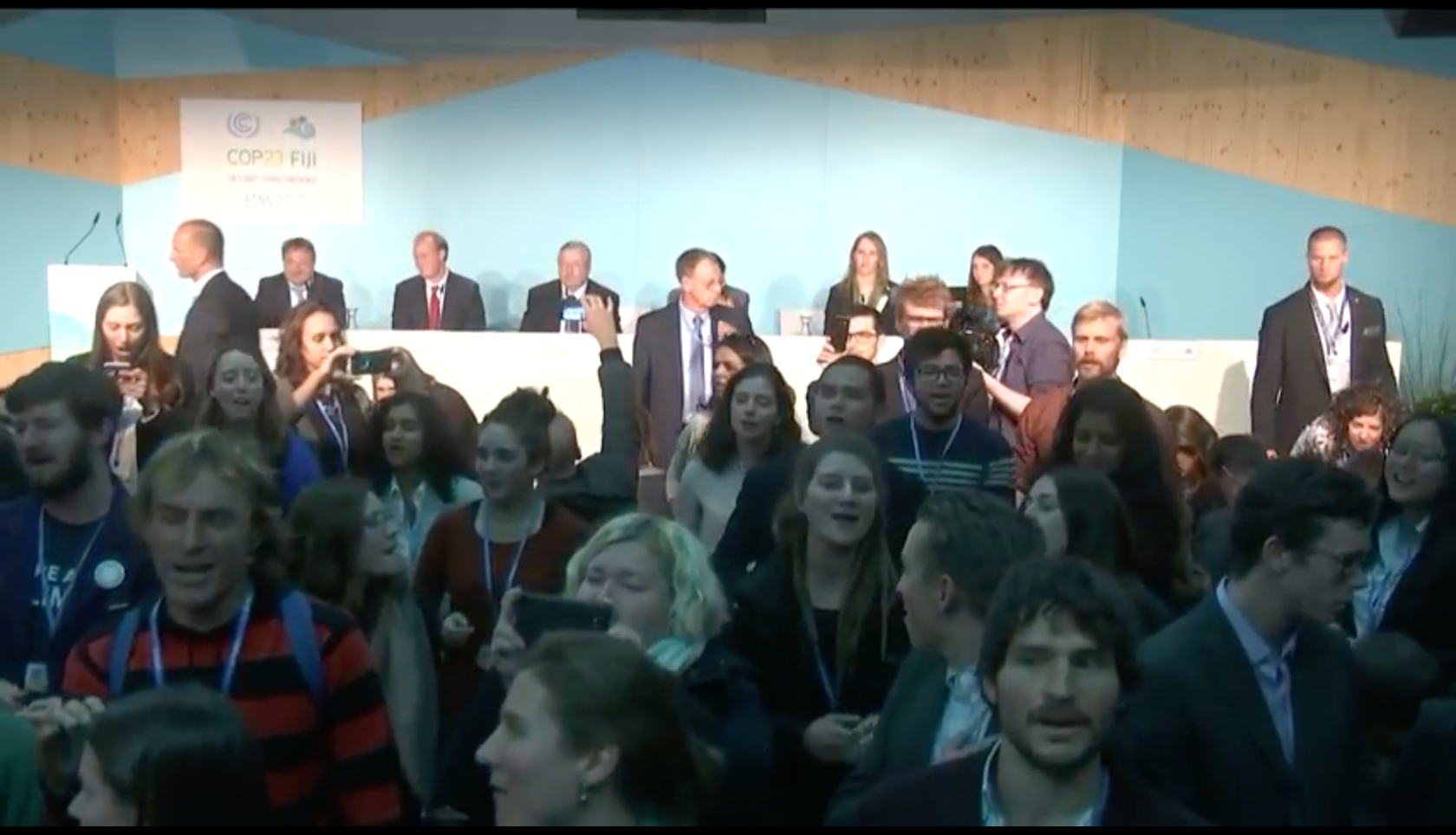 The audience was standing-room-only because protestors wanted a full chorus in the room.
---
Side events at the UN climate talks are often somewhat sleepy: A panel of people, often men, usually in suits, offering PowerPoint slides.
That changed quick Monday evening in Bonn, as Trump Administration officials talked of the crucial role fossil fuels will continue to play in the world's energy landscape – and of the crucial need for "this U.S. vision for a balanced approach" to oil, gas and coal.
U.S. Energy Association chief Barry Worthington was in the midst of his slide deck when many members of the packed, standing-room-only audience stood up and started singing.
They riffed on Lee Greenwood's iconic 1984 "God Bless the U.S.A.," tweaking the lyrics a bit:
"I'm proud to be an American/where they keep it in the ground."

Twitter, of course, caught the action.
Gotta say, really proud of these protestors right now disrupting this Trump admin presentation on how fossil fuels are best way to address energy poverty, to hell with the climate consequences.

pic.twitter.com/e9qOZGUatW


— Andrew Freedman (@afreedma)

November 13, 2017


After about 10 minutes, the chorus filed out of the room, and Worthington took stock of the much emptier room. "That gave me a chance to not put up a couple of slides that I really didn't want to put up there anyway," he quipped.

But other panelists, after the protesters left, lamented the tendency for all sides on the energy debate to stay in their silos.
"I can disagree with my fellow panelists here," said Amos Hochstein, a U.S. Special Envoy for International Energy under President Obama who now works to bring LNG to the world market. Staying to listen, he added, "I may actually end up learning something."
"We miss something at the COP when we congratulate ourselves … but we haven't convinced anyone to do anything on climate change."
[
News Source
]